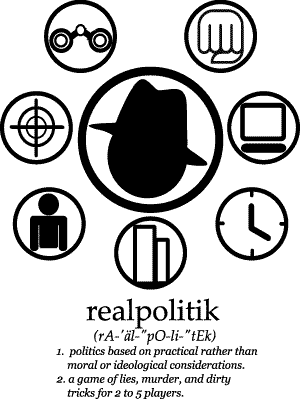 A game of lies, murder, and dirty tricks for 2-5 players
At long last, PROJECT SPY is complete and can be revealed as realpolitik!
The result of three years of development and playtesting, realpolitik is a fast-paced new card game in which you must utilize your small army of agents to manipulate, strongarm, and destroy the people, locations, and events upon which the fate of your government hangs.
Realpolitik is now available for purchase! Just click "Buy the Game" on the menu above.
UPDATE: Realpolitik now has an entry (and some pictures from yours truly) on that most-incredible of board game databases: Board Game Geek! Check it out here.
And please check out the forum if you have any questions.