Nitpicking: Babylon 5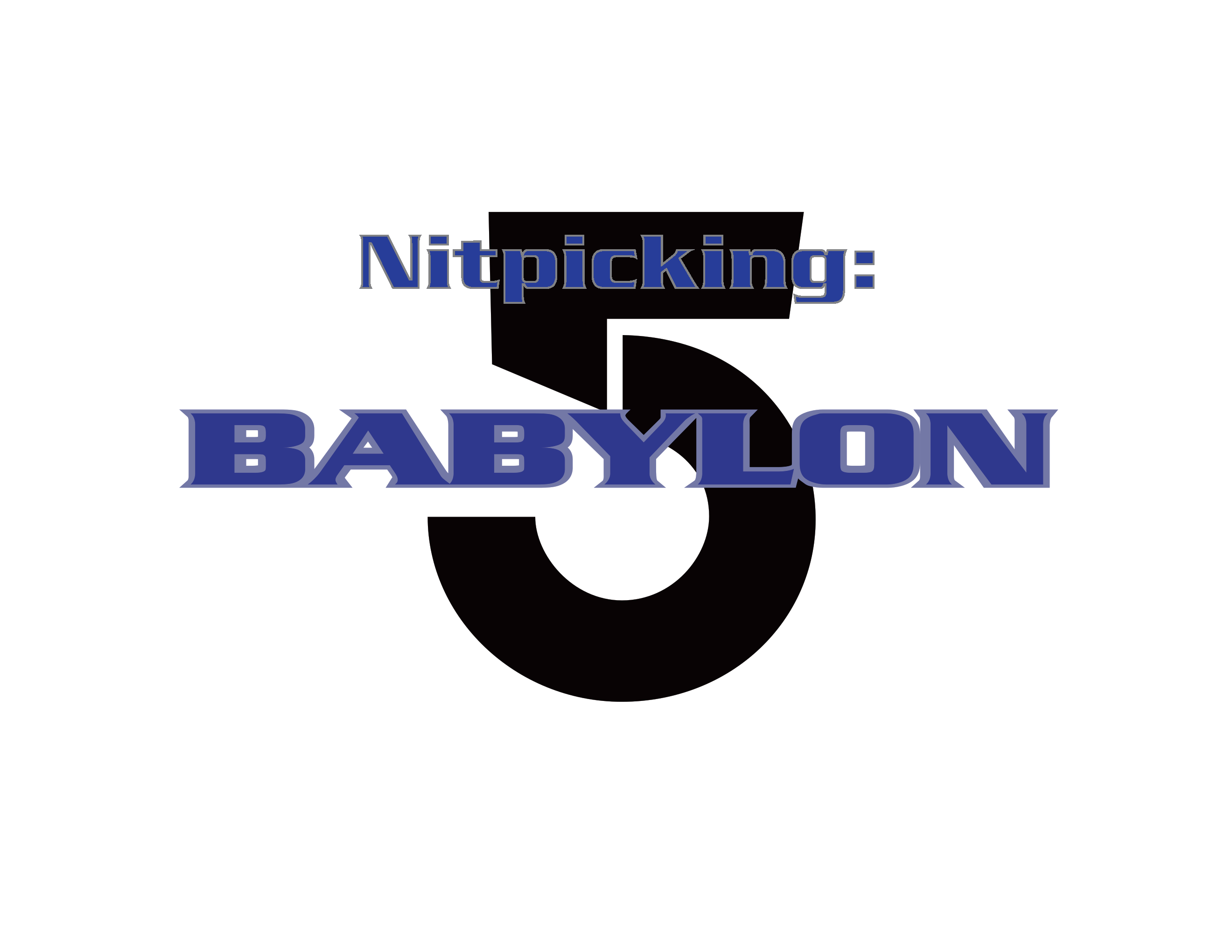 Where we take the beloved sci-fi series, look at it with jaded eyes, and then tell you everything that's wrong with it.

Season One



EPISODE ONE: Midnight on the Firing Line
[June 2, 2019]
Our inaugural episode opens with conflicts between the Narn Regime and the Centauri Republic and between Lieutenant Commander Ivanova and PsiCorps telepath Talia Winters.

EXTRASODE 7: The Gathering (PREVIEW) [June 2, 2017]
In the first of our Patreon-only extrasodes, we tackle the Babylon 5 pilot which introduces names and place we'll see again and some plot development we thankfully won't.

EPISODE TWO: Soul Hunter
[June 9, 2019]
The injection of the supernatural into a series of meaningless, boring events does nothing to save the three important lines that are all you really need to hear.

EPISODE THREE: Born to the Purple
[June 16, 2019]
This eminently forgettable episode is one about which we were both wrong. Unfortunately, we were both right about its mediocrity.

EPISODE FOUR: Infection
[June 23, 2019]
A meeting of Babylon 5 and Star Trek: The Next Generation, with a Lord-of-the-Rings feel, that no one wanted to see.

EPISODE FIVE: The Parliment of Dreams
[June 30, 2019]
This bundle of disconnected events is noteworthy only for introducing G'Kar's attache, Na'toth.

EPISODE SIX: Mind War
[July 7, 2019]
An inelegant but necessary dance ensues when the Psi Corp comes to Babylon Five looking for a rogue telepath.

EPISODE SEVEN: The War Prayer
[July 14, 2019]
The rule of C-Plots is borne out when a good idea for a story turns out to be too much for the slender reed that is Sinclair to carry.

EPISODE EIGHT: And the Sky Full of Stars
[July 21, 2019]
The tiny nugget of real information contained in this episode turns out to be not worth the great ball of stupid that it's wrapped in.

EPISODE NINE: Deathwalker
[July 28, 2019]
We are blessed with a good episode that, while a one-shot, realistically reflects events that have happened in real life.

EPISODE TEN: Believers
[August 4, 2019]
We learn entirely the wrong lesson when this Star Trek-y episode resolves in an entirely non-Star Trek way.

EPISODE ELEVEN: Survivors
[August 11, 2019]
Dumb noir ensues when Garibaldi is framed FOR A CRIME HE DIDN'T COMMIT. Save us.

EPISODE TWELVE: By Any Means Necessary
[August 18, 2019]
This one's a good'un after a run of not-so-good-un's, filled with texture, continuity and completely unlike anything you'd see on Star Trek. The episode that sold the series to Neil.

EPISODE THIRTEEN: Signs and Portents
[August 25, 2019]
Babylon 5's real story begins as Londo attempts to find an important artifact while the station is visited by a very strange, and very important, side character.

EPISODE FOURTEEN: TKO
[September 1, 2019]
An awful, utterly-forgettable A-plot involving martial-arts aliens is almost, but not quite, redeemed by the resolution of Ivanova's legacy.

EPISODE FIFTEEN: Grail
[September 8, 2019]
TKO without the entertaining B-plot. Save us, Susan Ivanova.

EPISODE SIXTEEN: Eyes
[September 15, 2019]
Continuity reigns as several birds come home to roost. Susan Season continues.

EPISODE SEVENTEEN: Legacies
[September 22, 2019]
The final run of Season One's real meat begins as a young woman's experience with her burgeoning telepathic powers intersects the Minbari warrior caste making a to-do of a vanished war hero's body.

EPISODE EIGHTEEN: A Voice in the Wilderness, Part I
[September 29, 2019]
With civil unrest on Mars as the backdrop, the Babylon 5 crew must explore the mysterious planet beneath them. Unfortunately, since this is a two-parter, nothing really happens.

EPISODE NINETEEN A Voice in the Wilderness, Part II
[Octover 6, 2019]
We learn that, much as on TNG, two-parters are usually unnecesary and often ultimately disappointing when the constant build-up finally fizzles out into a literal deus ex machina.

EPISODE TWENTY: Babylon Squared
[Octover 13, 2019]
A truly unique take on time travel ensues as Babylon 4 suddenly reappears while Delenn is faced with the possibility of taking over the Gray Council.

EPISODE TWENTY-ONE: The Quality of Mercy
[Octover 20, 2019]
In a sort of "Lost in Space" reunion, a doctor's strange healing device intersects a convicted murderer's death of personality, while Londo and Lennier hit the town.

EPISODE TWENTY-TWO: Chrysalis
[Octover 27, 2019]
A bookend to the season which is almost too much of a good thing.

EPISODE TWENTY-THREE: Bonus Season 1 Wrapup
[Octover 27, 2019]
We take a look back at Babylon Five's first season by picking a top and bottom three, making lists of necessary and recommended episodes, then discussing our favorite character so far.



Season Two



EPISODE TWENTY-FOUR: Points of Departure
[November 3, 2019]
Some departures, some arrivals and a lot of preparation for the coming of shadows.

EPISODE TWENTY-FIVE: Revelations
[November 10, 2019]
This episode's disappointingly generic title hides the beginning of Babylon Five's real plot as several missing characters reappear.

EPISODE TWENTY-SIX: The Geometry of Shadows
[November 17, 2019]
A middling episode with technomages, Garibaldi's job crisis, and yet no geometry and no shadows. There is, however, green. And purple.

EPISODE TWENTY-SEVEN: A Distant Star
[November 24, 2019]
This collection of odds and ends accomplishes little except to set Warren Keffer on his very short arc.

EPISODE TWENTY-EIGHT: The Long Dark
[December 1, 2019]
A bad copy of a bad Star Trek: The Next Generation episode, specifically Acquiel, seemingly written by someone who's never actually watched Babylon Five.

EPISODE TWENTY-NINE: Spider in the Web
[December 8, 2019]
Trying their hand at X-Files-style conspiracy, the Babylon-5 crew meander to stop an assassin before it's too late. Or something.

EPISODE THIRTY: Soul Mates
[December 15, 2019]
Londo Mollari is given an opportunity for a divorce and we learn that, like guest commentator Jill Neff, Tahlia Winters has a "type."

EPISODE THIRTY-ONE: A Race Through Dark Places
[December 22, 2019]
Psi Corps' arc is set in motion, linking to continuity both backwards and forwards, as Bester returns to Babylon Five to end Franklin's involvement in The Telepath Underground Railroad.

EPISODE THIRTY-TWO: The Coming of Shadows
[December 29, 2019]
Everything changes when the Centauri emperor decides to visit Babylon 5 and Londo makes a decision that sets him on an irrevocable path.

EPISODE THIRTY-THREE: Gropos
[January 5, 2020]
An episode in which wonderful actors are wasted on a by-the-numbers plot when the station gets crowded with the addition of 25,000 soldiers plus a host of Franklin's daddy issues.

EPISODE THIRTY-FOUR: All Alone in the Night
[January 12, 2020]
Some interesting plot advancement involving Earth and the consequences of Delenn's decisions is, unfortunately, buried in a pile of trashbag aliens.

EPISODE THIRTY-FIVE: Acts of Sacrifice
[January 19, 2020]
A necessary and interesting examination of G'Kar's sacrifices on behalf of the Narn is diluted by an unfortunate joke at Ivanova's expense.

EPISODE THIRTY-SIX: Hunter, Prey
[January 26, 2020]
A lot of sound and fury signifying (barely) something as the president's personal physician flees his own government and Kosh acts enigmatically.

EPISODE THIRTY-SEVEN: There All Honor Lies
[February 2, 2020]
A better written and acted version of The War Prayer plays out while Lennier and Vir show off their acting chops.

EPISODE THIRTY-EIGHT: And Now For a Word
[February 9, 2020]
An ISN special report results in a non-essential but highly-recommended episode that encapsulates what Babylon 5 is all about...both the good, and the bad.

EPISODE THIRTY-NINE: In the Shadow of Z'ha'dum
[February 16, 2020]
A revelation about Mr. Morden leads to Sheridan causing an incident that risks the entire station. Possibly Neil's favorite episode of the entire series, even though it does wear its influences on its sleeve.

EPISODE FORTY: Knives
[February 23, 2020]
The episode we thought was "Born to the Purple", paired with an utterly forgettable (we hope!) energy-being plot worthy of Star Trek.



Are you a fan of N:B5? Consider making a donation towards continuing our important work of making fun of popular media. Join our ongoing journey on Patreon!

Or if you'd like to help us out, but aren't interested in a recurring commitment, please consider throwing us a one-time donation via Ko-Fi. We'll use it to keep up our weekly batch of nitpicking fun!