Nitpicking: Babylon 5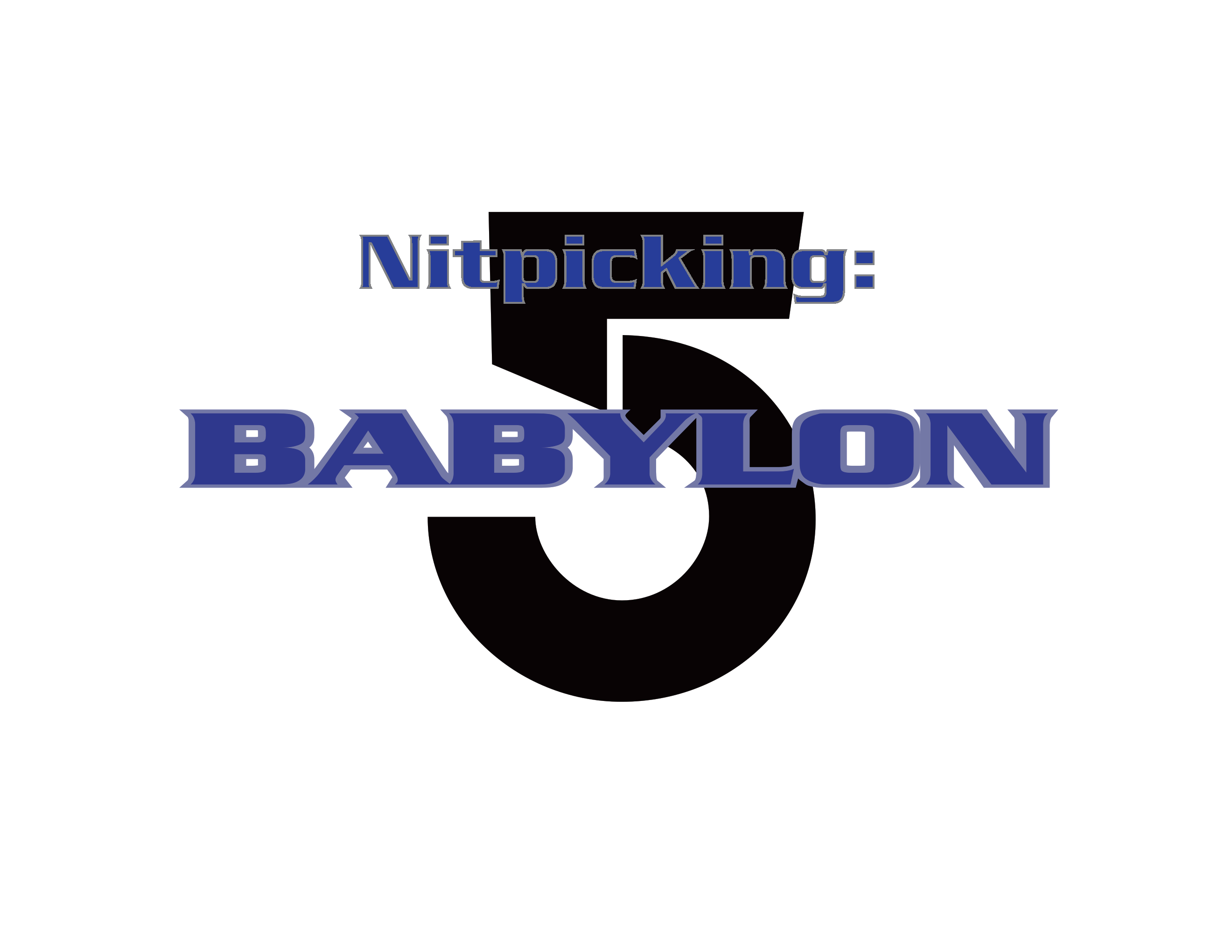 Where we take the beloved sci-fi series, look at it with jaded eyes, and then tell you everything that's wrong with it.

Season One



EPISODE ONE: Midnight on the Firing Line
[June 2, 2019]
Our inaugural episode opens with conflicts between the Narn Regime and the Centauri Republic and between Lieutenant Commander Ivanova and PsiCorps telepath Talia Winters.

EXTRASODE 7: The Gathering (PREVIEW) [June 2, 2017]
In the first of our Patreon-only extrasodes, we tackle the Babylon 5 pilot which introduces names and place we'll see again and some plot development we thankfully won't.

EPISODE TWO: Soul Hunter
[June 9, 2019]
The injection of the supernatural into a series of meaningless, boring events does nothing to save the three important lines that are all you really need to hear.

EPISODE THREE: Born to the Purple
[June 16, 2019]
This eminently forgettable episode is one about which we were both wrong. Unfortunately, we were both right about its mediocrity.

EPISODE FOUR: Infection
[June 23, 2019]
A meeting of Babylon 5 and Star Trek: The Next Generation, with a Lord-of-the-Rings feel, that no one wanted to see.

EPISODE FIVE: The Parliment of Dreams
[June 30, 2019]
This bundle of disconnected events is noteworthy only for introducing G'Kar's attache, Na'toth.

EPISODE SIX: Mind War
[July 7, 2019]
An inelegant but necessary dance ensues when the Psi Corp comes to Babylon Five looking for a rogue telepath.

EPISODE SEVEN: The War Prayer
[July 14, 2019]
The rule of C-Plots is borne out when a good idea for a story turns out to be too much for the slender reed that is Sinclair to carry.

EPISODE EIGHT: And the Sky Full of Stars
[July 21, 2019]
The tiny nugget of real information contained in this episode turns out to be not worth the great ball of stupid that it's wrapped in.

EPISODE NINE: Deathwalker
[July 28, 2019]
We are blessed with a good episode that, while a one-shot, realistically reflects events that have happened in real life.

EPISODE TEN: Believers
[August 4, 2019]
We learn entirely the wrong lesson when this Star Trek-y episode resolves in an entirely non-Star Trek way.

EPISODE ELEVEN: Survivors
[August 11, 2019]
Dumb noir ensues when Garibaldi is framed FOR A CRIME HE DIDN'T COMMIT. Save us.

EPISODE TWELVE: By Any Means Necessary
[August 18, 2019]
This one's a good'un after a run of not-so-good-un's, filled with texture, continuity and completely unlike anything you'd see on Star Trek. The episode that sold the series to Neil.

EPISODE THIRTEEN: Signs and Portents
[August 25, 2019]
Babylon 5's real story begins as Londo attempts to find an important artifact while the station is visited by a very strange, and very important, side character.

EPISODE FOURTEEN: TKO
[September 1, 2019]
An awful, utterly-forgettable A-plot involving martial-arts aliens is almost, but not quite, redeemed by the resolution of Ivanova's legacy.

EPISODE FIFTEEN: Grail
[September 8, 2019]
TKO without the entertaining B-plot. Save us, Susan Ivanova.

EPISODE SIXTEEN: Eyes
[September 15, 2019]
Continuity reigns as several birds come home to roost. Susan Season continues.

EPISODE SEVENTEEN: Legacies
[September 22, 2019]
The final run of Season One's real meat begins as a young woman's experience with her burgeoning telepathic powers intersects the Minbari warrior caste making a to-do of a vanished war hero's body.

EPISODE EIGHTEEN: A Voice in the Wilderness, Part I
[September 29, 2019]
With civil unrest on Mars as the backdrop, the Babylon 5 crew must explore the mysterious planet beneath them. Unfortunately, since this is a two-parter, nothing really happens.

EPISODE NINETEEN A Voice in the Wilderness, Part II
[October 6, 2019]
We learn that, much as on TNG, two-parters are usually unnecesary and often ultimately disappointing when the constant build-up finally fizzles out into a literal deus ex machina.

EPISODE TWENTY: Babylon Squared
[October 13, 2019]
A truly unique take on time travel ensues as Babylon 4 suddenly reappears while Delenn is faced with the possibility of taking over the Gray Council.

EPISODE TWENTY-ONE: The Quality of Mercy
[October 20, 2019]
In a sort of "Lost in Space" reunion, a doctor's strange healing device intersects a convicted murderer's death of personality, while Londo and Lennier hit the town.

EPISODE TWENTY-TWO: Chrysalis
[October 27, 2019]
A bookend to the season which is almost too much of a good thing.

EPISODE TWENTY-THREE: Bonus Season 1 Wrapup
[October 27, 2019]
We take a look back at Babylon Five's first season by picking a top and bottom three, making lists of necessary and recommended episodes, then discussing our favorite character so far.



Season Two



EPISODE TWENTY-FOUR: Points of Departure
[November 3, 2019]
Some departures, some arrivals and a lot of preparation for the coming of shadows.

EPISODE TWENTY-FIVE: Revelations
[November 10, 2019]
This episode's disappointingly generic title hides the beginning of Babylon Five's real plot as several missing characters reappear.

EPISODE TWENTY-SIX: The Geometry of Shadows
[November 17, 2019]
A middling episode with technomages, Garibaldi's job crisis, and yet no geometry and no shadows. There is, however, green. And purple.

EPISODE TWENTY-SEVEN: A Distant Star
[November 24, 2019]
This collection of odds and ends accomplishes little except to set Warren Keffer on his very short arc.

EPISODE TWENTY-EIGHT: The Long Dark
[December 1, 2019]
A bad copy of a bad Star Trek: The Next Generation episode, specifically Acquiel, seemingly written by someone who's never actually watched Babylon Five.

EPISODE TWENTY-NINE: Spider in the Web
[December 8, 2019]
Trying their hand at X-Files-style conspiracy, the Babylon-5 crew meander to stop an assassin before it's too late. Or something.

EPISODE THIRTY: Soul Mates
[December 15, 2019]
Londo Mollari is given an opportunity for a divorce and we learn that, like guest commentator Jill Neff, Tahlia Winters has a "type."

EPISODE THIRTY-ONE: A Race Through Dark Places
[December 22, 2019]
Psi Corps' arc is set in motion, linking to continuity both backwards and forwards, as Bester returns to Babylon Five to end Franklin's involvement in The Telepath Underground Railroad.

EPISODE THIRTY-TWO: The Coming of Shadows
[December 29, 2019]
Everything changes when the Centauri emperor decides to visit Babylon 5 and Londo makes a decision that sets him on an irrevocable path.

EPISODE THIRTY-THREE: Gropos
[January 5, 2020]
An episode in which wonderful actors are wasted on a by-the-numbers plot when the station gets crowded with the addition of 25,000 soldiers plus a host of Franklin's daddy issues.

EPISODE THIRTY-FOUR: All Alone in the Night
[January 12, 2020]
Some interesting plot advancement involving Earth and the consequences of Delenn's decisions is, unfortunately, buried in a pile of trashbag aliens.

EPISODE THIRTY-FIVE: Acts of Sacrifice
[January 19, 2020]
A necessary and interesting examination of G'Kar's sacrifices on behalf of the Narn is diluted by an unfortunate joke at Ivanova's expense.

EPISODE THIRTY-SIX: Hunter, Prey
[January 26, 2020]
A lot of sound and fury signifying (barely) something as the president's personal physician flees his own government and Kosh acts enigmatically.

EPISODE THIRTY-SEVEN: There All Honor Lies
[February 2, 2020]
A better written and acted version of The War Prayer plays out while Lennier and Vir show off their acting chops.

EPISODE THIRTY-EIGHT: And Now For a Word
[February 9, 2020]
An ISN special report results in a non-essential but highly-recommended episode that encapsulates what Babylon 5 is all about...both the good, and the bad.

EPISODE THIRTY-NINE: In the Shadow of Z'ha'dum
[February 16, 2020]
A revelation about Mr. Morden leads to Sheridan causing an incident that risks the entire station. Possibly Neil's favorite episode of the entire series, even though it does wear its influences on its sleeve.

EPISODE FORTY: Knives
[February 23, 2020]
The episode we thought was "Born to the Purple", paired with an utterly forgettable (we hope!) energy-being plot worthy of Star Trek.

EPISODE FORTY-ONE: Confessions and Lamentations
[March 1, 2020]
This non-required episode about the fall of the Markab takes us on quite an emotional ride.

EPISODE FORTY-TWO: Divided Loyalties
[March 8, 2020]
Lyta Alexander returns to the station, bringing news of a Psi-Corps conspiracy involving a sleeper agent. Includes guest commentator Cynthia Taylor, who's here for the lesbians.

EPISODE FORTY-THREE: The Long, Twilight Struggle
[March 15, 2020]
The tale of the horrific end to the Narn-Centauri war is marred by an unevenly executed subplot involving the return of the Great Machine's keeper.

EPISODE FORTY-FOUR: Comes the Inquisitor
[March 22, 2020]
Delenn is put to the question by an inquisitor, and we're put to the question by this episode.

EPISODE FORTY-FIVE: The Fall of Night
[March 29, 2020]
This episode demonstrates that it's always darkest before the dawn -- and this ain't the dawn. Just ask Warren Keffer.

EPISODE FORTY-SIX: Bonus Season 2 Wrapup
[March 29, 2020]
We look over the last season, discussing departures and arrivals, our favorite characters and storylines, required and skippable episodes and our top and bottom three!



Season Three



EPISODE FORTY-SEVEN: Matters of Honor
[April 5, 2020]
The last best hope for peace becomes the last best hope for victory, heralded by the arrival of the Defiant ... oh, wait ... sorry, the White Star.

EPISODE FORTY-EIGHT: Convictions
[April 12, 2020]
A story about a random bomber already qualifies as one of the worst of the season, with one interesting scene and 40 minutes of wasted potential via Falling Down.

EPISODE FORTY-NINE: A Day in the Strife
[April 19, 2020]
Two plots: one stupid; one not. While G'Kar is asked to return to the Homeworld to face judgement, the rest of the crew half-asses an encounter with an exploding probe straight out of Star Trek. Oh, and the title is dumb.

EPISODE FIFTY: Passing Through Gethsemane
[April 26, 2020]
In an example of what a filler episode SHOULD be, a member of Brother's Theo's order is gaslighted into remembering a past best forgotten. Includes the re-introduction of one of our favorite psychics, Lyta Alexander.

EPISODE FIFTY-ONE: Voices of Authority
[May 3, 2020]
This required episode is the story of two women: one telepathic, the other, stereotyped.

EPISODE FIFTY-TWO: Dust to Dust
[May 10, 2020]
This episode sees the reintroduction of Alfred Bester, who proves he can be just as annoying WITHOUT his telepathic ability.

EPISODE FIFTY-THREE: Exogenesis
[May 17, 2020]
An utterly forgettable, completely skippable episode involving parasitic bug people and Ivanova trying to expand the conspiracy.

EPISODE FIFTY-FOUR: Messages from Earth
[May 25, 2020]
Sheridan and company deal with a crazed Shadow ship while the shadow of Night Watch lengthens.

EPISODE FIFTY-FIVE: Point of No Return
[May 31, 2020]
The title track of Season Three and the moment when everything goes to hell.

EPISODE FIFTY-SIX: Severed Dreams
[June 7, 2020]
Point of No Return, Part II: If there is shit that could hit a fan, it hits it.

EPISODE FIFTY-SEVEN: Ceremonies of Light and Dark
[June 15, 2020]
An episode containing good continuity and some of our favorite moments, but the A-plot about a hostage situation...sucks.

EXTRASODE 9: In the Beginning (PREVIEW) [June 20, 2020]
A must-see prequel to Babylon 5 that really shouldn't be viewed until you've at least finished Season 3. We witness the Earth-Minbari Warfrom the perspective of those that were there, and can re-evaluate what we knew -- or thought we knew.

EPISODE FIFTY-EIGHT: Sic Transit Vir
[June 21, 2020]
The "Up the Long Ladder" of Babylon 5, in which horrific things happen, played for laughs. Includes guest commentator Cynthia Taylor.

EPISODE FIFTY-NINE: A Late Delivery from Avalon
[June 28, 2020]
King Arthur? What the hell? Includes guest commentator Jill Neff.

EPISODE SIXTY: Ship of Tears
[July 5, 2020]
This episode's got continuity, strange bedfellows, and it ain't Gray 17 is Missing.

EPISODE SIXTY-ONE: Interludes and Examinations
[July 12, 2020]
Three characters once again going through a period of transition results in an important episode that doesn't hit as hard as it should.

EPISODE SIXTY-TWO: War Without End, Part I
[July 19, 2020]
One of the only two-part episodes in the run of the series sees the return of Commander Jeffrey Sinclair.

EPISODE SIXTY-THREE: War Without End, Part II
[July 26, 2020]
A solid part two in which the seams are still a little visible, including some unforseeable incongruities.

EPISODE SIXTY-FOUR: Walkabout
[August 2, 2020]
An interesting plot in which Lyta Alexander returns and is tested against the Shadows is unfortunately paired with a terrible Franklin storyline.

EPISODE SIXTY-FIVE: Grey 17 is Missing
[August 9, 2020]
A decent b-plot utilizing a b-list character is completely overshadowed by bizarre happenings involving Michael Garibaldi's exploration of the titular level. Includes guest commentator Dan Kostelec.

EPISODE SIXTY-SIX: And the Rock Cried Out, No Hiding Place
[August 16, 2020]
Babylon Five doesn't have many moments of true greatness. This, however, is one of them.

EPISODE SIXTY-SEVEN: Shadow Dancing
[August 23, 2020]
The penultimate episode of Season Three sees the first major engagement with the Shadows. (And Franklin...something, something.)

EPISODE SIXTY-EIGHT: Z'Ha'Dum
[August 30, 2020]
An episode that is the culmination of two seasons of progress; a final, inevitable falling of the dominoes.

EPISODE SIXTY-NINE: Bonus Season 3 Wrapup
[August 30, 2020]
We take a look back at Babylon Five's third season by picking a top and bottom three, and giving our lists of necessary and recommended episodes.



Season Four



EPISODE SEVENTY: The Hour of the Wolf
[September 6, 2020]
After Season Three's explosive ending, we settle in, drink in hand, to contemplate the consequences and where we might go from here.

EPISODE SEVENTY-ONE: Whatever Happened to Mr. Garibaldi?
[September 13, 2020]
The inevitable disappointing second episode doesn't dissapoint, as the characters continue to grapple with the events of last season, while somehow accomplishing nothing.

EPISODE SEVENTY-TWO: The Summoning
[September 20, 2020]
After a brief haitus, the Shadow war resumes as Delenn and Ivanova struggle to keep together the Army of Light. Oh yeah, and some people come back.

EPISODE SEVENTY-THREE: Falling Towards Apotheosis
[September 27, 2020]
Sheridan and Garibaldi are getting back into things while Londo and Vir are getting in over their heads. And be sure to stick around for the special sing-along ending!

EPISODE SEVENTY-FOUR: The Long Night
[October 4, 2020]
Babylon 5 at its best: we wrap up the Cartagia storyline as well as the Narn storyline and set the stage for the final confrontation with the First Ones.

EPISODE SEVENTY-FIVE: Into the Fire
[October 11, 2020]
The apotheosis of Babylon 5 arrives in the ending of the Shadow War.

EPISODE SEVENTY-SIX: Epiphanies
[October 18, 2020]
Nitpickers of the jury, Neil begins building his case that Sheridan is a shitty politician.

EPISODE SEVENTY-SEVEN: The Illusion of Truth
[October 25, 2020]
Breaking a pattern of terrible episodes, guest commentator Jill Neff joins us for a discussion about truth and the media.

EPISODE SEVENTY-EIGHT: Atonement
[November 1, 2020]
An episode that lacks an actual atonement or any importance outside of "In the Beginning."

EPISODE SEVENTY-NINE: Racing Mars
[November 8, 2020]
Red planet. Gay honeymoon. Includes guest commentator Cynthia Taylor.

EPISODE EIGHTY: Lines of Communication
[November 15, 2020]
We're deep in the oatmeal of Season Four as a bunch of stuff happens to people. It's fine.

EPISODE EIGHTY-ONE: Conflicts of Interest
[November 22, 2020]
Even in this boring, tedious episode, the truths of B5 -- Ivanova's the best and Garibaldi's just the worst -- remain. And, for some reason, there's Invader Zim.

EPISODE EIGHTY-TWO: Rumors, Bargains, and Lies
[November 29, 2020]
This merely good, but necessary, episode sees the League of Non-Aligned Worlds played for a laugh as well as the return of Neroon.

EPISODE EIGHTY-THREE: Moments of Transition
[December 6, 2020]
If the last episode was all setup, this one is pure payoff.

EPISODE EIGHTY-FOUR: No Surrender, No Retreat
[December 13, 2020]
The Earth civil war begins but it's a quiet moment between still-enemies that steals the scene.

EPISODE EIGHTY-FIVE: The Exercise of Vital Powers
[December 20, 2020]
The series anticlimax truly sets in as Franklin and Lyta deal with Shadow-influenced psychics and Garibaldi goes full noir on Mars.

EPISODE EIGHTY-SIX: The Face of the Enemy
[December 27, 2020]
Film-noir comes to the Garden of Gethsemane as Garibaldi finally betrays Sheridan.

EPISODE EIGHTY-SEVEN: Intersections in Real Time
[January 3, 2021]
Repeat after us: Seaon Four has twenty-one episodes. TWENTY. ONE.

EPISODE EIGHTY-EIGHT: Between the Darkness and the Light
[January 10, 2021]
This episode does the job of moving the story forward. Which after last week is a blessed relief.

EPISODE EIGHTY-NINE: Endgame
[January 17, 2021]
The episode in which the Earth civil war is wrapped up and Marcus tells us exactly who he is.

EPISODE NINETY: Rising Star
[January 24, 2021]
The unofficial end of Season Four is politics all the way down. Oh, and 240 seconds of Lise Edgars.

EPISODE NINETY-ONE: The Deconstruction of Falling Stars
[January 31, 2021]
In an episode where guest commentator Dan Kostelec is the Chris Pratt to our velociraptors, we learn that, like faith, spite manages.

EPISODE NINETY-TWO: Bonus Season 4 Wrapup
[January 31, 2021]
With a view from the top of the rollercoaster, we examine Season Four, giving our feelings about the series' strengths and weaknesses. We finally reveal our own Grand Design for the narrative as well as our required and skippable episodes and the top and bottom three.



Season Five



EPISODE NINETY-THREE: No Compromises
[February 7, 2021]
This episode breaks the pattern of strong season starts and serves as the opening argument in Nitpicking vs. President John Sheridan of the Interstellar Alliance.

EPISODE NINETY-FOUR: The Very Long Night of Londo Mollari
[February 14, 2021]
This very long walk could have been avoided if Londo Mollari (and Lennier) had a sassy gay friend.

EPISODE NINETY-FIVE: The Paragon of Animals
[February 21, 2021]
A good, but not outstanding episode ensues when the fate of an previously-unknown species on the edge of Drazi space must be protected by a still-forming Alliance.

EPISODE NINETY-SIX: A View from the Gallery
[February 28, 2021]
AKA Rozencrantz and Guildenstern are Stupid. Turns out the view from the gallery is exactly the same as that from the orchestra.

EPISODE NINETY-SEVEN: Learning Curve
[March 7, 2021]
Rangers, trouble in Down Below, philosophizing... and no one learns very much. All plot, no story.

EPISODE NINETY-EIGHT: Strange Relations
[March 14, 2021]
The telepath story finally kicks into high gear; wish we could say the same about the rest of the episode.

EPISODE NINETY-NINE: Secrets of the Soul
[March 21, 2021]
A mass gathering of a perverted nature about a mass gathering of a perverted nature. Includes guest commentators Jill Neff and Cynthia Taylor.

EPISODE ONE HUNDRED: Day of the Dead
[March 28, 2021]
Neil Gaiman continues the JMS tradition of dropping the sub from sub-text. Includes guest commentator Dan Kostelec.

EPISODE ONE HUNDRED-ONE: In the Kingdom of the Blind
[April 5, 2021]
The next installment of Nitpickers v. President John Sheridan continues as Byron and his people do something incredibly stupid.

EPISODE ONE HUNDRED-TWO: A Tragedy of Telepaths
[April 11, 2021]
A solid episode of two storylines: Everything goes wrong on Babylon 5, and it's heading the same way on Centauri Prime.

EPISODE ONE HUNDRED-THREE: Phoenix Rising
[April 18, 2021]
This episode marks the end of the telepath storyline, in which Garibaldi crashes and Byron burns.

EPISODE ONE HUNDRED-FOUR: The Ragged Edge
[April 25, 2021]
New problems, changing roles, and unpleasant surprises characterize a two-pound episode in a five-pound bag. Be sure to stick around for our discussion with Tim Allen of Code for Recovery!

EPISODE ONE HUNDRED-FIVE: The Corps is Mother, the Corps is Father
[May 2, 2021]
Contrary to all available indicators, this Alfred Bester episode is most definitely NOT the jam of guest commentator Cynthia Taylor.

SPECIAL: Brassy & Sassy, Episode 1
[May 6, 2021]
As a special treat, we have the first episode of Brassy & Sassy, a podcast by N:B5 co-host Neil McGarry and Kelly Carreno.

EPISODE ONE HUNDRED-SIX: Meditations on the Abyss
[May 9, 2021]
It's not like Babylon 5 doesn't have good filler. You just won't find it here.

EPISODE ONE HUNDRED-SEVEN: Darkness Ascending
[May 16, 2021]
The clouds gather in many storylines, but it sort of all comes together.

EPISODE ONE HUNDRED-EIGHT: And All My Dreams, Torn Asunder
[May 23, 2021]
Consequences, consequences, consequences.

EPISODE ONE HUNDRED-NINE: Movements of Fire and Shadow
[May 30, 2021]
Everything finally catches fire. And, once again, it's a little much for just one episode.

EPISODE ONE HUNDRED-TEN: The Fall of Centauri Prime
[June 6, 2021]
A quintessentially Babylon Five episode - consequences, change and the summation of the series as a whole, where we also bump up against the limits of the storytelling.

EPISODE ONE HUNDRED-ELEVEN: The Wheel of Fire
[June 13, 2021]
Babylon Five welcomes back G'Kar as we welcome back guest commentator Jill Neff in the flesh to the fabulous Nitpicking Studios.

EPISODE ONE HUNDRED-TWELVE: Objects in Motion
[June 20, 2021]
We're cleaning up - one of the final three episodes in which someone, for some reason, wants to bother killing Michael Garibaldi.

EPISODE ONE HUNDRED-THIRTEEN: Objects at Rest
[June 27, 2021]
Faster than we expected, we've reached The End. Almost everyone is leaving, everyone else is stepping into new positions and it's time to turn off the lights and shut things down.

EPISODE ONE HUNDRED-FOURTEEN: Sleeping in Light
[July 4, 2021]
The "good" in goodbye.

EPISODE ONE HUNDRED-FIFTEEN: Season Five Wrapup
[July 4, 2021]
We examine the ups and downs of B5's final season in preparation for next week's Series Finale, listing our required and skippable episodes and our top and bottom three.

EPISODE ONE HUNDRED-SIXTEEN: Babylon 5 Series Wrapup
[July 11, 2021]
This is it, folks. We examine Babylon 5 as a whole, look at our favorite (and not-so-favorite) episodes and hear a little from the guests we've talked to along the way. We close with a reveal of our next series, starting on July 25!



Are you a fan of N:B5? Consider making a donation towards continuing our important work of making fun of popular media. Join our ongoing journey on Patreon!

Or if you'd like to help us out, but aren't interested in a recurring commitment, please consider throwing us a one-time donation via Ko-Fi. We'll use it to keep up our weekly batch of nitpicking fun!