The Nitpicking Podcast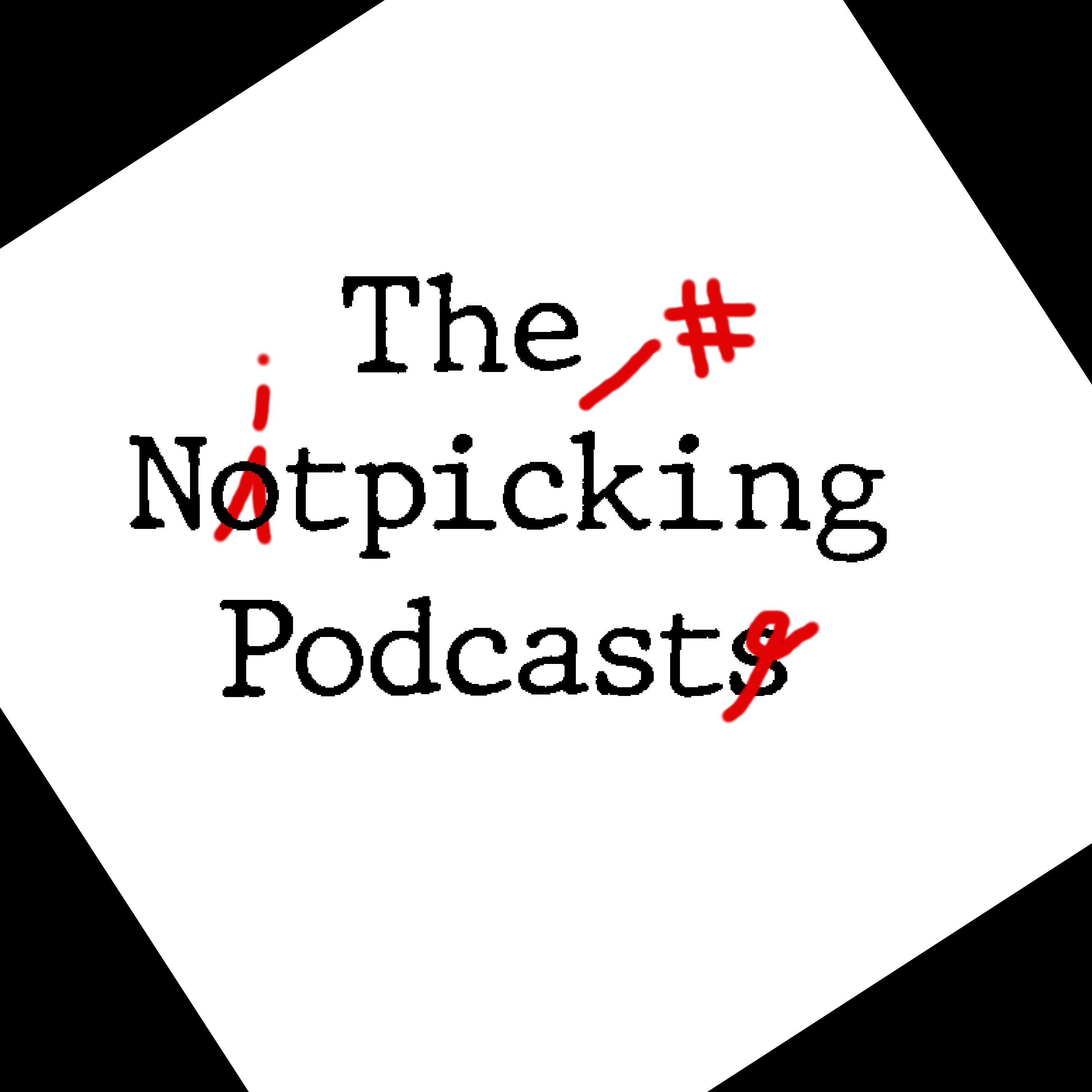 Where we look at popular television, look at it with jaded eyes, and then tell you everything that's wrong with it.

Enterprise, Season 3



EPISODE ONE: Enterprise, Season 3, Episode 1: The Xindi
[September 26, 2021]
The inaugural episode of Star Trek: Enterprise, the Good Bits. We hope.

EPISODE TWO: Enterprise, Season 3, Episode 2: Anomaly
[October 3, 2021]
Pirates and moral conundrums, oh my!

EPISODE THREE: Enterprise, Season 3, Episode 3: Extinction
[October 10, 2021]
A highlight worst-of reel of Star Trek: Genesis by way of Identity Crisis sprinkled with the awful ending of the Inner Light and the bad acting of Masks. Though, good news: no salamander babies!

EPISODE FOUR: Enterprise, Season 3, Episode 4: Rajiin
[October 17, 2021]
We continue with the worst of Star Trek, this time exploring the Evil Seductress Trope: The Perfect Mate by way of the original series' salt vampire.

EPISODE FIVE: Enterprise, Season 3, Episode 5: Impulse
[October 24, 2021]
In which Enterprise attempts to do a zombie movie while completely missing the point of zombie movies.

EPISODE SIX: Enterprise, Season 3, Episode 6: Exile
[October 31, 2021]
Sato finds herself in a boring, bog-standard retelling of Beauty and Beast meets Bluebeard by way of Ravenloft.

EPISODE SEVEN: Enterprise, Season 3, Episode 7: The Shipment
[November 7, 2021]
In which the story finally moves forward. In the most annoying way possible.

EPISODE EIGHT: Enterprise, Season 3, Episode 8: Twilight
[November 14, 2021]
A weak idea done in a half-hearted way, in which nothing actually happens.

EPISODE NINE: Enterprise, Season 3, Episode 9: North Star
[November 21, 2021]
The Enterprise writers say 'Fuck it, we're in the Old West.'

EPISODE TEN: Enterprise, Season 3, Episode 10: Similitude
[November 28, 2021]
For once, the opening theme song is perfectly appropriate for this creatively vacant episode that's somehow WORSE than Tuvix.

EPISODE ELEVEN: Enterprise, Season 3, Episode 11: Carpenter Street
[December 5, 2021]
To fight the Xindi, the crew goes from the 2150s to the 2000s but it feels like the 1970s.

EPISODE TWELVE: Enterprise, Season 3, Episode 12: Chosen Realm
[December 12, 2021]
Baby's First Theology leads to Who Watches the Watchers after you take out all the good parts and all that's left is punching.

EPISODE THIRTEEN: Enterprise, Season 3, Episode 13: Proving Ground
[December 19, 2021]
This surprisingly enjoyable episode sees the story finally lurch forward in the return of Star Trek treasure Jeffrey Combs as Andorian Commander Shran.

EPISODE FOURTEEN: Enterprise, Season 3, Episode 14: Stratagem
[December 26, 2021]
This holodeck-without-the-holodeck episode reveals the limits of both 22nd-century technology and Johnathan Archer's ability to lie.

EPISODE FIFTEEN: Enterprise, Season 3, Episode 15: Harbinger
[January 3, 2022]
An episode so badly written, it makes us re-evaluate Voyager as the worst of the franchise. Oh, and Reed and Hayes STILL don't make out.

EPISODE SIXTEEN: Enterprise, Season 3, Episode 16: Doctor's Orders
[January 9, 2022]
The endless slog towards Ezati Prime continues as Doctor Phlox is left all alone in a poor retelling of Voyager's episode One.

EPISODE SEVENTEEN: Enterprise, Season 3, Episode 17: Hatchery
[January 16, 2022]
A potentially interesting situation is completely undercut -- surprise surprise -- by removing the characters' autonomy. Includes guest commentator Jill Neff.

EPISODE EIGHTEEN: Enterprise, Season 3, Episode 18: Azati Prime
[January 23, 2022]
The Enterprise FINALLY reaches Azati Prime only to find out the journey wasn't worth it.

EPISODE NINETEEN: Enterprise, Season 3, Episode 19: Damage
[January 30, 2022]
Enterprise carries all of the usual Star Trek baggage, but it does know how to do damage.

EPISODE TWENTY: Enterprise, Season 3, Episode 20: The Forgotten
[February 6, 2022]
We end up mildly impressed with this knot of an episode, but we wished they'd planned out the overarching continuity better.

EPISODE TWENTY-ONE: Enterprise, Season 3, Episode 21: E Squared
[February 13, 2022]
Yesterday's Enterprise, but make it stupid.

EPISODE TWENTY-TWO: Enterprise, Season 3, Episode 22: The Council
[February 20, 2022]
We reach the point in the story the writers should have worked backwards from, but didn't.

EPISODE TWENTY-THREE: Enterprise, Season 3, Episode 23: Countdown
[February 27, 2022]
Bangs, flashes, ships firing on each other, and then we just end up where we started.

EPISODE TWENTY-FOUR: Enterprise, Season 3, Episode 24: Zero Hour
[March 6, 2022]
Of all the ways this could have ended, we can at least say we didn't see this one coming.



Kindred: The Embraced



EPISODE TWENTY-FIVE: Kindred: The Embraced, Episode 1: The Original Saga
[March 13, 2022]
Return with us to the 90s, when men were men and women were vampires, as we review the short-lived Aaron Spelling series Kindred: The Embraced.

EPISODE TWENTY-SIX: Kindred: The Embraced, Episode 2: Prince of the City
[March 20, 2022]
The continued adventures (some recycled) of straight vampires in Gayville.

EPISODE TWENTY-SEVEN: Kindred: The Embraced, Episode 3: Nightstalker
[March 27, 2022]
In this episode, on which guest commentator Jill Neff actually spent money, we can't tell who really is the stalker.

EPISODE TWENTY-EIGHT: Kindred: The Embraced, Episode 4: Romeo and Juliet
[April 3, 2022]
In 42 minutes, we see every way this show could have succeeded and every way it definitely failed.

EPISODE TWENTY-NINE: Kindred: The Embraced, Episode 5: Live Hard, Die Young, and Leave a Good Looking Corpse
[April 10, 2022]
Guest commentator Cynthia Taylor helps us understand why the high camp of this series is so bad it's good -- and why we're glad there's only eight episodes. No homo.

EPISODE THIRTY: Kindred: The Embraced, Episode 6: The Rise and Fall of Eddie Fiori
[April 17, 2022]
As we witness the end of Eddie Fiori's dubious leadership of the Brujah clan, our talk with guest commentator Sean McGarry ranges from LARPS to Michelle Pfieffer to Jinx Monsoon.

EPISODE THIRTY-ONE: Kindred: The Embraced, Episode 7: Bad Moon Rising
[April 24, 2022]
We watched the entire episode even though half way through the writers just gave up.

EPISODE THIRTY-TWO: Kindred: The Embraced, Episode 8: Cabin in the Woods
[May 1, 2022]
Drama and consequences arise from a weekend in the woods. As always, the ideas are fine, but the execution is the problem. Also: our feelings on the series as a whole and what's coming next...



Alien Nation



EPISODE THIRTY-THREE: Alien Nation, Episode 1: Pilot, Part 1
[May 15, 2022]
The first part of this double-length pilot introduces us to Neil's old friends the Newcomer Francisco and their irascible Human comrade, Matthew Sikes.

EPISODE THIRTY-FOUR: Alien Nation, Episode 1: Pilot, Part 2
[May 22, 2022]
In the second part of our pilot, the writers try to put in and resolve entirely too much and we're introduced to the unfortunate trope of the last-minute voice over.

EPISODE THIRTY-FIVE: Alien Nation, Episode 2: Fountain of Youth
[May 29, 2022]
An episode about getting older: how it happens, what it means and how you can avoid it.

EPISODE THIRTY-SIX: Alien Nation, Episode 3: Little Lost Lamb
[June 5, 2022]
Buck's story is wrapped up REALLY quickly and Matt and George discover the most literary whorehouse in California.

EPISODE THIRTY-SEVEN: Alien Nation, Episode 4: Fifteen With Wanda
[June 12, 2022]
The platonic ideal of Alien Nation: an interesting social-science fiction plot saddled with an utterly ridiculous and brain-dead police procedural.

EPISODE THIRTY-EIGHT: Alien Nation, Episode 5: The Takeover
[June 19, 2022]
Easily the worst episode so far, leaning hard into the ridiculous policework of a crime-ridden city's vague riot. Oh, and there's mind-control gas.

EPISODE THIRTY-NINE: Alien Nation, Episode 6: The First Cigar
[June 26, 2022]
Guest commentator Sean McGarry helps us understand why this episode is the best argument for a reboot: Ms. Ross will show us the way.

EPISODE FORTY: Alien Nation, Episode 7: Night of the Screams
[July 3, 2022]
Alien Nation firing on all cylinders: a surprisingly good Halloween episode that merges the personal with the police procedural.

EPISODE FORTY-ONE: Alien Nation, Episode 8: Contact
[July 10, 2022]
A solid episode about family, memory, home, the past and how the future is determined by our choices and where we come from.

EPISODE FORTY-TWO: Alien Nation, Episode 9: Three to Tango
[July 17, 2022]
A feel-good episode about murder. Lots and lots of murder.

EPISODE FORTY-THREE: Alien Nation, Episode 10: The Game
[July 24, 2022]
An excellent episode about George's past where the police procedural and the personal work together, though it does veer into melodrama.

EPISODE FORTY-FOUR: Alien Nation, Episode 11: Chains of Love
[July 31, 2022]
Guest commentator Jill Neff joins us for this tour of 90s digital dating, murder and homophobic hijinx.

EPISODE FORTY-FIVE: Alien Nation, Episode 12: The Red Room
[August 7, 2022]
This episode tries to answer the question how much trauma can you fit in one Newcomer man? The answer is way too much.

EPISODE FORTY-SIX: Alien Nation, Episode 13: Spirit of 95
[August 14, 2022]
Like a good episode, this one grapples with larger questions: politics, the efficacy of voting, and the possibility of change. But that's where any similarity with a good episode ends.

EPISODE FORTY-SEVEN: Alien Nation, Episode 14: Generation to Generation
[August 21, 2022]
We found our head canon much more interesting than this episode's attempt to use a mystic curse to bring everyone together.

EPISODE FORTY-EIGHT: Alien Nation, Episode 15: Eyewitness News
[August 28, 2022]
What starts out as a possibly interesting take on a precursor to reality television ends up collapsing into a mess of judgemental pontificating with no clear point. But, Angela Bassett!

EPISODE FORTY-NINE: Alien Nation, Episode 16: Partners
[September 4, 2022]
Two-thirds potential, one-third flub as George is accused of stealing drugs and another father figure inevitably ends up disappointing Matt.

EPISODE FIFTY: Alien Nation, Episode 17: Real Men
[September 11, 2022]
We're joined by guest commentator Cynthia Taylor as we examine thie episode of gender stuff, done either very well or very badly. You decide!

EPISODE FIFTY-ONE: Alien Nation, Episode 18: Crossing the Line
[September 18, 2022]
A serial killer, ANOTHER trauma from someone's past, and flashbacks to characters you couldn't possibly care about all add up to a strong contender for the Worst. Episode. Ever.

EPISODE FIFTY-TWO: Alien Nation, Episode 19: Rebirth
[October 2, 2022]
Narrative Scrapple: three after-school specials shoved into blender and then poured into a bad and boring episode.

EPISODE FIFTY-THREE: Alien Nation, Episode 20: Gimmie Gimmie
[October 9, 2022]
A morality play plot about material acquitision that's all motion and no movement.

EPISODE FIFTY-FOUR: Alien Nation, Episode 21: The Touch
[October 16, 2022]
A not-so-greatest hits, The Game by way of the First Cigar, in which we encounter trauma but this time Cathy-flavored!

EPISODE FIFTY-FIVE: Alien Nation, Episode 22: Green Eyes
[October 23, 2022]
Our run of not-so-great episodes ends on a cliff-hanger with the unfinished story of yet another purist plot that will need to be finished in the first Alien Nation film: Dark Horizon.



The Extrasodes


These were originally Patreon-exclusives that we offered to the folks who so kindly supported our work. Now that we're done, we're making them available to everyone!

Extrasode 1: In the Pale Moonlight
Our first extrasode, covering Neil's favorite episode from the entire Star Trek franchise: "In the Pale Moonlight" (Deep Space Nine, Season 6, Episode 19).

Extrasode 2: Parallax
This time we take on the women of Voyager as they geek out over warp particles and maybe-but-not-really event horizons (Voyager, Season 1, Episode 3).

Extrasode 3: The Andorian Incident
See Captain Archer's bigotry in action! Thrill to Tucker's constant whining and sarcasm! Watch as T'Pol is consistently ignored, with terrible consequences! All in our exciting Extrasode of "Star Trek: Enterprise"! (Enterprise, Season 1, Episode 6)

Extrasode 4: Balance of Terror
We finally take on Star Trek's original series -- something that took more than a little coaxing -- and end up examining this fascinating game of cat-and-mouse. Also, this piece of work is literally hundreds of six-second clips put back together in order that we had to sift through when Audacity ate the original. So we hope you like it. (Star Trek:TOS, Season 1, Episode 14)

Extrasode 5: Discovery, Season 1
Given its non-episodic nature, our Extrasode for the last Star Trek series in the franchise we've yet to touch (other than the Animated Series!) ended up being a wide and far-ranging look at how Star Trek: Discovery managed to drop the ball after THE best pilot ever.

Extrasode 6: Yesteryear
We finally take on the last remaining entry in the Star Trek franchise, the Animated Series. We did a little research and the episode that was most mentioned as the best from the series (and the most likely to be actual canon) was the time-travelling flashback to Spock's childhood known as Yesteryear.

Extrasode 7: The Gathering
We nitpick the pilot of "Babylon 5": The Gathering. There are some interesting changes that are ultimately made but all-in-all, it's still Babylon 5, although there is some definite weirdness with the Vorlons and how they're presented in future episodes...

Extrasode 8: Tuvix
We did our second live podcast as a benefit for Philly AIDS Thrift @ Giovanni's Room where we lampooned what Neil considers the WORST episode in the entire Star Trek oeuvre. Watch as we try to handle the horrible goblin-creature that results when a transporter accident merges Tuvok and Neelix. Wonder with us that it takes Janeway an entire episode to finally decide to off the horrible thing. Includes a post-show Q&A.

Extrasode 9: Babylon 5: In the Beginning
A must-see prequel to Babylon 5 that really shouldn't be seen until you've at least finished Season 3. We see the Earth-Minbari Warfrom the perspective of those that were there, and can re-evaluate what we knew -- or thought we knew.

Extrasode 10: Homefront & Paradise Lost
An extrasode from Trek Deep: Deep Space Nine, covering the Season Four episodes "Homefront" and "Paradise Lost". This fascinating time-capsule containing pre 9/11 attitudes about security and freedom would have been *much* different if it had been written a few years later.

Extrasode 11: Babylon 5: Thirdspace
We head back to the Babylon 5 universe for Lovecraft-a-Go-Go!

Extrasode 12: Alien Nation, The Movie
Join us as we review where it all started: James Caan and Mandy Patinkin solve crimes in a Newcomer-filled LA in the original film "Alien Nation."

Extrasode 13: Dark Horizon, Part 1
This week, we cover the first half of the TV movie that kinda-sorta picks up where the series left off and kinda-sorta gives it a conclusion.

Extrasode 14: Dark Horizon, Part 2
We cover the second half of Dark Horizon in which Ahpossno finally does something and the second plot is resolved.